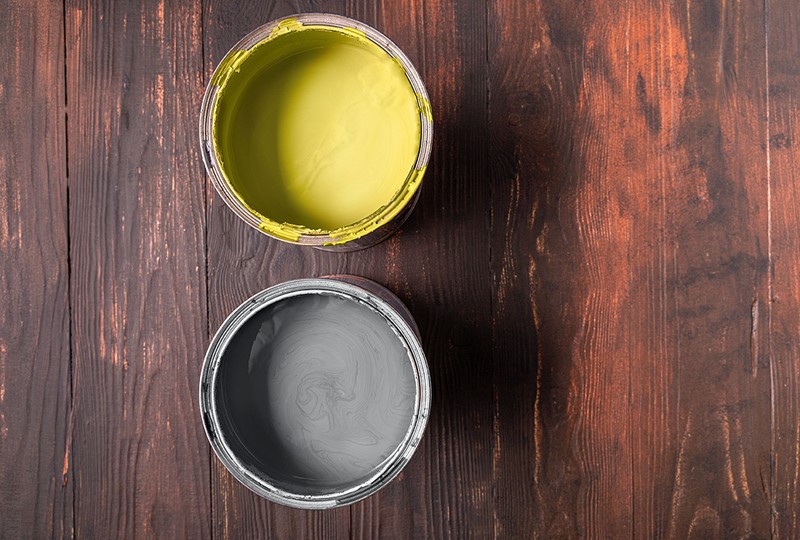 Key insights:

The 2021 Colors of the Year are Ultimate Gray, Illuminating, Aegean Teal and Urbane Bronze.
Make an impression by staging your home for sale with the Color of the Year that best complements your space.
Homebuyers tend to prefer neutral palettes. Consider Illuminating and Aegean Teal in small accent pieces, like pillows or picture frames.
The Color of the Year is an anticipated announcement, providing artists, designers and decorators with an artistic message and muse. The Color of the Year also tends to impact home trends and furnishings, which is especially important for home sellers.
Here are insights you can use as you decorate or stage your home with the 2021 Color of the Year.
The 2021 Colors of the Year
Pantone, Benjamin Moore and Sherwin Williams all announced 2021 Colors of the Year, each with unique hues and selection explanations.
Pantone: Ultimate Gray and Illuminating
Both Ultimate Gray, an elemental gray, and Illuminating, a happy yellow, were selected by Pantone to inform the upcoming year. Pantone describes this pair of colors as "practical and rock solid but at the same time warming and optimistic."
Benjamin Moore: Aegean Teal
Described by Benjamin Moore as balanced and comforting, Aegean Teal is a soft hue that subtly upgrades any space. Additionally, Benjamin Moore created a palette of colors that harmonize with Aegean Teal, making it easier than ever for homeowners to work with this color trend.
Sherwin Williams: Urbane Bronze
Urbane Bronze is an organic color providing a gentle reminder to slow down and find your sanctuary, whether in nature or elsewhere. At the same time, this hue creates warmth and sophistication in any space, which is perfect for those looking to remodel or sell their home.
Keep in mind, it's okay that each entity has different colors touted as the Color of the Year. In fact it's encouraging to witness the variety of perspectives regarding color and design. Having a variety of trend colors gives homeowners more opportunity as they reimagine their spaces.
Selling and staging your home with the 2021 Color of the Year
When staging a house for sale, it's important to neutralize the space so the future homeowners can imagine themselves living in the area. With that being said, the occasional bright accent or interesting decor piece can add an element of cheer and charm to the space.
Staging your home with Ultimate Gray
Ultimate Gray is a strong yet neutral color that can create a foundation when staging. Placing Ultimate Gray on large surfaces within your space will emphasize its brilliance while maintaining a sense of practicality.
Looking to add some foundational decor pieces to your home while staging? Couches or chairs in Ultimate Gray can provide a solid base for the rest of the space you plan to stage. If you're ready to pull out the paint brushes, this elemental shade works well on painted tables, wooden furniture and walls that could use a darker-but-neutral hue.
Staging your home with Illuminating
Bright colors are best used sparingly or for highlights that help freshen up a room. Illuminating is an optimistic color that will help you achieve an element of positivity and light in your space.
Some unique ways to incorporate touches of Illuminating throughout your property include accent pieces like picture frames, vases, lampshades, throw pillows or bathroom accessories. If you are really into this uplifting hue, opt for a larger pop of color and include Illuminating within a patterned rug or on your front door.
Staging your home with Aegean Teal
While not as bright as Illuminating, Aegean Teal makes a statement with a softer tone. This balanced hue is a perfect pop of color that is calm enough to cover expansive spaces, such as accent walls, decorative pillows, large art pieces or rugs.
Given its soothing presence, Aegean Teal could also be used in a bedroom. Try staging your master suite with Aegean Teal walls, bedding, lamp, dressers or drawer pulls.
Staging your home with Urbane Bronze
Urbane Bronze is a deep, regal tone that may be best used in a sophisticated home or room, such as a formal dining area or living room. Other placement options for this color include a home office, study or chef's kitchen.
Get the full effect of Urbane Bronze by situating it near mixed metals or wooden features in your space; this will highlight both the rich bronze color and the earthy elements.
Painting a successful home sale
Ready to embrace a 2021 Color of the Year while staging your home? Pull out the paintbrushes and Pinterest boards to begin incorporating your favorite hue throughout your space!
When you're ready to sell your home, reach out to Edina Realty or your agent. From insights on home staging trends to the closing table, we're here to help you every step of the way.