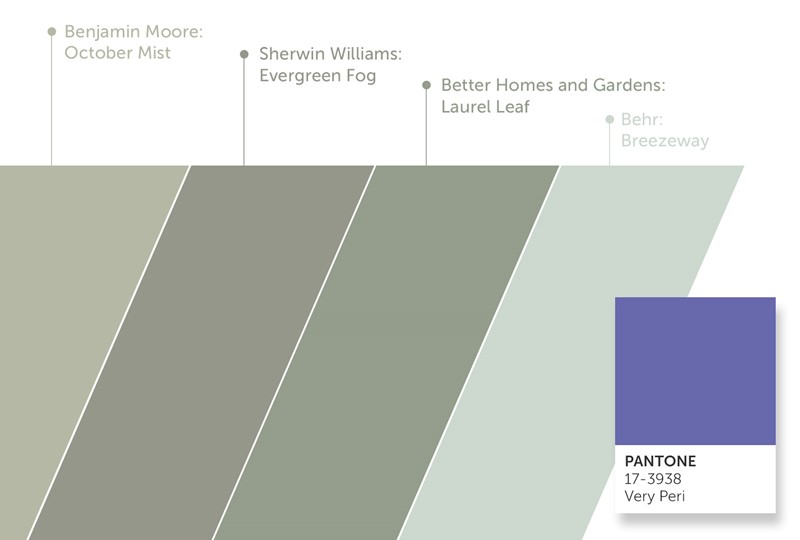 Key insights:

Many major paint companies declared a shade of green as their 2022 Color of the Year.
Homeowners can incorporate this year's natural colorway into their space with ease — think wall colors, furniture, art and more!
If selling, stay on top of trends and appeal to potential buyers by staging your home with the Color of the Year.
Every year, the Color of the Year is an exciting announcement that homeowners, builders and designers look forward to. The chosen color informs and inspires home paint, decor and staging trends for the year to come. Keep reading for a detailed review of all of the 2022 Colors of the Year.
The 2022 Colors of the Year
Benjamin Moore, Sherwin Williams, Better Homes and Gardens and Behr all announced their 2022 Colors of the Year. While these major paint companies have all gone green with their Colors of the Year, each choice has a distinct hue and thoughtful reasoning behind its selection.
Benjamin Moore: October Mist
Benjamin Moore states that October Mist "creates a canvas" wherever it is used. This silver-green hue allows for simple pairing with other colors and room for your mind to wander, much like a blank canvas. Unlike a traditional neutral, like off-white or cream, October Mist adds noticeable interest while still maintaining an overall subtle presence.
Sherwin Williams: Evergreen Fog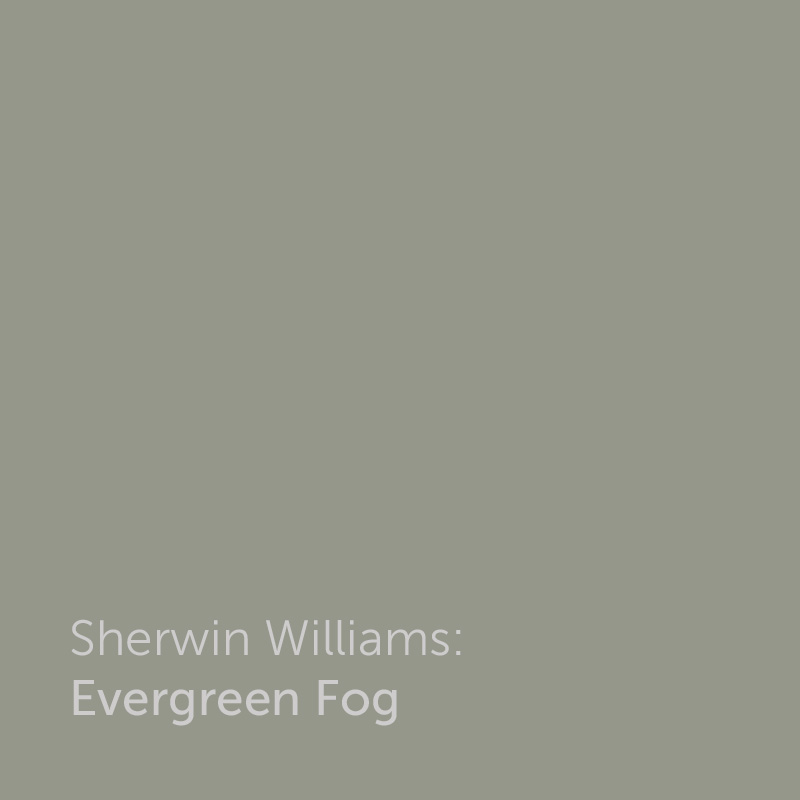 Almost identical to Benjamin Moore's Color of the Year, Sherwin Williams selected another "green-meets-gray" hue as their Color of the Year. Known as Evergreen Fog, this color makes for the perfect calm-mood-setting paint choice. Plus, this green is chameleon-like in the sense that it's able to blend into any room with ease.
Better Homes and Gardens: Laurel Leaf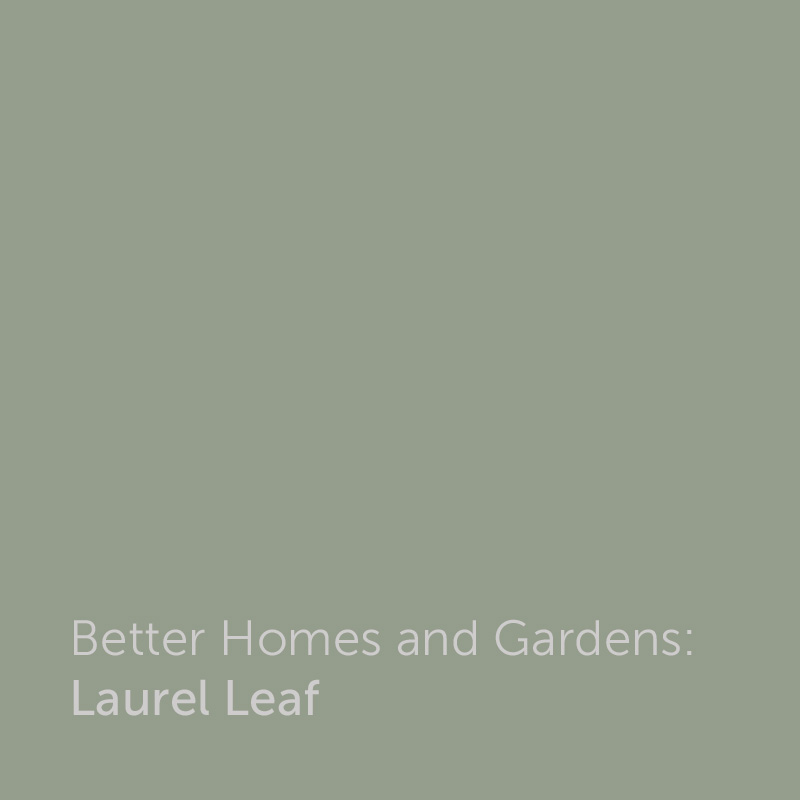 Still green, but with warmer undertones, Laurel Leaf is the Better Homes and Gardens choice for the 2022 Color of the Year. As its name suggests, Laurel Leaf exhibits organic green tones. The natural green of Laurel Leaf is meant to serve as a sophisticated reminder of the ever-present outdoors, even when situated in the home.
Behr: Breezeway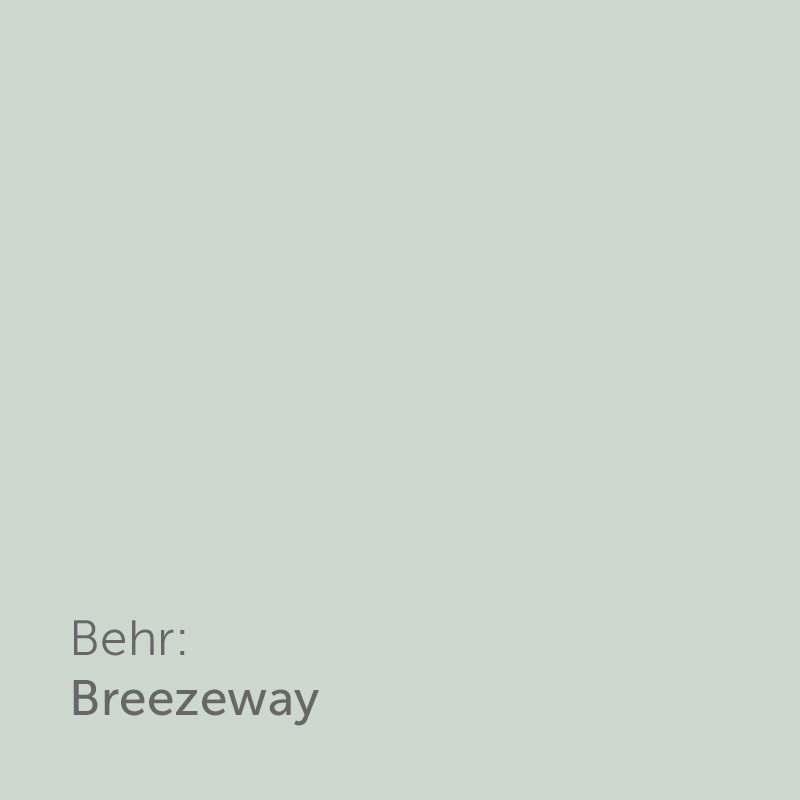 Described by Behr as a "relaxed and uplifting sea glass green," Breezeway resembles all things tranquil and optimistic. There is no doubt that this color will harmonize well with your existing space, while also inviting a breath of fresh air into your home.
Tips for going green with home decor and staging
Neutrals are important, whether decorating your existing space or staging your house for sale. And, the 2022 Colors of the Year include green tones that can serve as interesting, yet neutral, foundations for your home's color palette.
Use the 2022 Colors of the Year to decorate your walls with paint, wallpaper or accents. These greens are extremely versatile, and each offers its own strength. For example, Breezeway is extra soothing and may be best suited for a bedroom or bathroom, whereas October Mist and Evergreen Fog are easily compatible with other colors and may work well in a living room or kitchen. Finally, Laurel Leaf has a sophisticated flair that would serve well in a formal area or dining room.
When decorating your space with the 2022 Colors of the Year, remember to not only paint, but also to include furnishings that match the announced colors. Here are some decor ideas to enhance your space with this year's green hues:
Large art pieces
Area rugs
Lampshades
Decorative pillows
Bedding
Because these greens are soft and neutral, they will do best when paired with other natural design elements and textures. Leafy indoor plants will complement the green Colors of the Year, as well.
A tribute to Pantone's palette
While paint companies all announced a green hue as their Color of the Year, the world's leading expert on color, Pantone, went in a completely different direction, selecting a striking purple-blue known as Very Peri Pantone's pick is much bolder and brighter than the other Colors of the Year that were announced for 2022, making Very Peri ideal for homeowners who are looking to make dynamic changes to the colorway of their homes.
If you're fond of the maximalist design aesthetic, use Very Peri generously throughout your space. Otherwise, Very Peri can make for an occasional pop of color when expressed on accent walls and furniture pieces.
Keep in mind, it's okay that Pantone's pick differs from the other touted Colors of the Year. The Pantone Color of the Year is selected to inform color trends for a variety of uses, not just home interiors. Even so, Very Peri remains an intense and creative color for homeowners to explore.
Painting 2022 a new hue
Consider embracing a 2022 Color of the Year in your home this year. Painting and decorating will help freshen up your space whether you're planning to stay put for a while or you're ready to stage your home to sell.
Last, be sure to contact Edina Realty or your agent today if you're in the market to list your home for sale. Moving forward, our real estate experts can offer home seller tips like these on-trend colors, mortgage advice and so much more!
Can we include a swatch of each color next to their section?