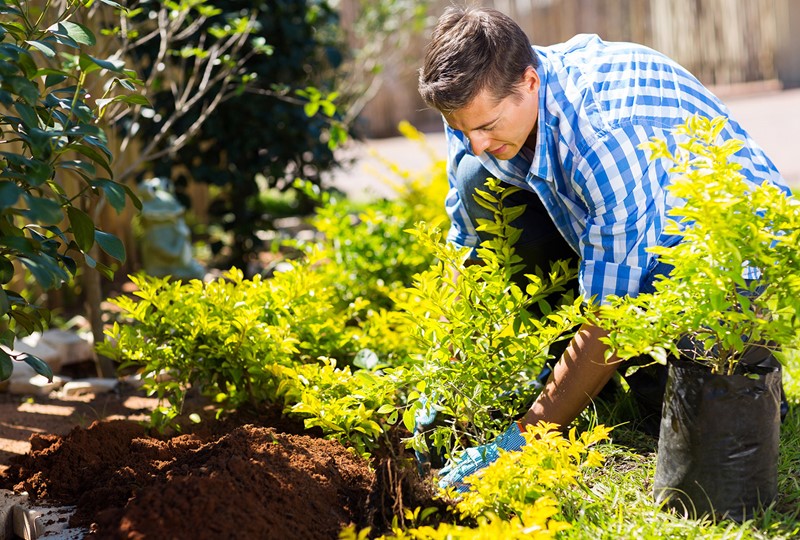 Key insights

Homeowners who are hoping to dive into landscaping should build a foundation with larger, low-maintenance shrubs
Next, beginner gardeners should consider the home's exposure to sun as they add in smaller plants and flowers
By planning ahead, you can save money by hitting garden centers for mid-summer sales and getting free divided plants from friends with surpluses
Not everyone has a natural green thumb, but nearly every homeowner wishes their landscaping looked like something out of a magazine. Today, we offer up expert insights on how anyone — even those of us who kill desert plants — can spruce up their lawn this summer.
What are the best plants for true beginners?
To answer this question, we consulted Edina Realty's IT manager, Patti Lauer. When she's not busy cleaning up our data feeds and guaranteeing you a precise home search experience on edinarealty.com, Patti is a certified University of Minnesota Extension Master Gardener who can be found perfecting her home's gardens and landscaping.
For true beginners, Lauer recommends starting with shrubs for foundation plantings. These will help you fill in the larger spaces and you can add flowering plants or other smaller plants for more texture and color.
Easy shrubs for planting include:
Dwarf Bush Honeysuckle
Black Chokeberry
Spirea
Bush Cinquefoil
Fragrant sumac
Juniper
Currants
Hydrangeas
What are the best flowers and plants for full sun or partial sun?
Next, it's time to add in perennial plants — which come back each year and vary in their need for sun, partial sun or shade. Below are some common plants that flourish in different amounts of sun and shade.
Full sun flowers and plants for beginners

Partial sun flowers and plants for beginners

Daylilies
Catmint
Lanceleaf coreopsis
Bee balm
Black-eyed Susan
Purple coneflower
Butterfly weed

Autumn Joy sedum
Wild geranium
Hosta
Blue false indigo
Bee balm
False Solomon's seal
Canada wild ginger
How will I know when to water the plants?
After planting, the biggest fear among beginner gardeners and landscapers is how often to water. Lauer recommends checking your plants in the morning before they've seen the day's full sun. Begin by feeling the top six inches of soil for in-ground plants and the top two inches for potted plants. If it's dry, it's time to water.
Be sure the soil is able to drain properly and avoid watering until the soil has returned to normal. Not sure what "normal" is? Check out this guide on how to test and amend your soil to ensure your plants can grow healthily this summer.
And finally, be sure to water at the base of the plants and try to minimize how often you water the foliage itself. Adding mulch around the plants also helps to cut down on watering and weeding requirements.
How can I keep the costs down when adding better landscaping or a beginner garden?
It's possible to build a great yard without spending hundreds of dollars.
If you have the space, consider composting to save money on soil amendments. A natural compost can be used as mulch and top dressing each spring.
End-of-season sales tend to start in June at local gardening stores. If you go now, you may be able to score some great deals on perennials that will come back next year!
If you know someone who loves to garden, ask if they have any plants they're dividing but can't replant in their own home. Some easy-to-grow plants, like hostas and daylilies, grow notoriously fast and neighbors or friends may be happy to give them away for free to an eager beginner. (Once you grow plants that need to be divided and replanted, be sure to return the favor!)
How can I save time on mowing my lawn?
If you have a large lawn that requires frequent mowing, consider adding larger areas with rock, woodchips or mulch and plants.
Plus, keep in mind that there's no sin in letting your grass grow out just a bit before mowing.
"Let your lawn grow a little taller and mow no more than 1/3 height at a time, to keep it around three inches. This will actually strengthen the grass and it will shade and crowd out the weeds," says Lauer. "If you leave your grass clippings on the ground, it will reduce your fertilizer requirements and increase the water infiltration in your lawn's soil."
Selling? Keep these tips in mind
Selling a house means making your home appealing to the largest group of buyers. That means that as you fix up your lawn this summer, you may want to consult with your REALTOR® or a landscaping expert to ensure that your lawn is in peak condition before listing your home on the market.
Landscaping is only one component of building up curb appeal. Consult this curb appeal checklist to see the myriad ways you can help your home shine online and in person for potential buyers.
Follow #SellerInsights on Facebook, Twitter, Instagram and YouTube for even more tips on selling a home in Minnesota and western Wisconsin this summer.