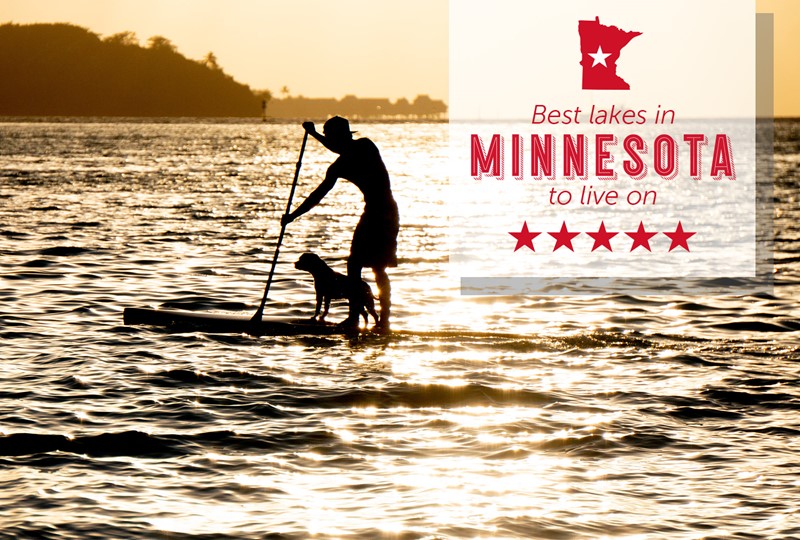 Some of the best lakes in Minnesota to live on are closer than you'd think. In the land of 10,000 lakes, it comes as no surprise that lakeshore living is a hot commodity. Looking to have it all – the hustle of city living steps from the retreat of blue waters? There is a lot to consider when deciding when and where to buy a lakefront home.
Despite its 13 lakes, finding a lake home in Minneapolis will be a challenge. Who doesn't love a stop at Sebastian Joe's or Wild Rumpus after a walk around Lake Harriet? Homes on the Minneapolis Chain of Lakes don't come on the market frequently. If you see one pop up on Lake Harriet, Lake of the Isles or Lake Bde Maka Ska (Lake Calhoun), make sure to pounce!
So where do you look if you want to find a home right on a lake within the Twin Cities? Or maybe you are looking for a retreat to cabin country. There are several cities throughout the metro and beyond worth exploring. Check out some of these choices for best lakes in Minnesota to live on.
Lake Minnetonka
Lake Minnetonka and its many bays is the hot spot for water fun in the Twin Cities and a great place to start your lakefront search. Prices range from $130,000 for a lakeside condo to $14.9 million for a wow-factor mansion. Lake Minnetonka, Minnesota's ninth largest lake, touches 13 cities in Hennepin and Carver counties, and is a hub for almost every type of water recreation including yachting and sailing. Popular lakeside restaurants include Lord Fletcher's and Maynards. There are three public beaches on Lake Minnetonka, plus a sandy-bottomed, chlorinated swimming pond at Lake Minnetonka Regional Park in Minnetrista. And if you are looking to step back in time, hop aboard the 1906 Steamboat Minnehaha on weekends throughout the summer.
Although the local market fluctuates on a daily basis, there are currently 105 homes for sale on Lake Minnetonka; 130 if you include water access. Here are a few best bets:
Exceptional Properties:
Condos and various price points:
Prior Lake
Upper Prior Lake and Lower Prior Lake together make the largest lake in the south metro and 80th in size for all of Minnesota. Prior Lake is home to two public beaches and two public boat launches. Looking for a seasonal boat slip? The city of Prior Lake offers several including four at Watzi's Beach and four at Sand Point Beach. There are also five boat slips at each beach for daily use, and six at each beach for overnight rental. The lake is popular for fishing, canoeing and kayaking. Dine lakeside at Charlie's on Prior, offering everything from a tasty burger to gluten free and vegetarian specialties.
Currently there are 16 homes for sale on Prior Lake, ranging in price from $575K to $1.3M.
Forest Lake
The birthplace of Log Cabin syrup, Forest Lake is home to the Wildlife Science Center, Mallards seafood restaurant and borders Running Aces Harness Park in Columbus. In the center of the city of Forest Lake is the aptly-named Forest Lake offering beach and public access at Lakeside Memorial Park. Lakeside is also home to a farmers market and live entertainment on Tuesday evenings throughout the summer.
Forest Lake is popular for trophy fishing. Brag-worthy catches include muskie, northern pike, largemouth bass, walleye, bluegill, crappie and perch. There are currently 11 lakefront homes for sale on Forest Lake, ranging in price from $330K to $2.2M. Availability jumps up to 22 if you include lake access when searching properties on Forest Lake.
Chisago County
There are several notable lakes throughout Chisago County. North and South Center Lake, located in Center City and Lindstrom, currently offer 12 lakefront homes for sale. This area is known for antique shopping and Harmony in the Park, weekly live entertainment at Lions Park in Lindstrom, just west of South Center Lake. Lakefront properties range from under $200K to $1.3M. Comfort Lake, not too far from Lindstrom in Wyoming, is another Chisago County lake to consider when searching for homes in this area.
Wright County
Skirting the edges of the Twin Cities is Wright County, approximately an hour from Minneapolis. Annandale and Cokato offer a variety of options for owning a lake home. There are currently 26 lakefront properties for sale within these cities, ranging from lots starting at $110,000 to beautiful homes just shy of the $1M mark.
Notable mentions: Popular lakes with limited homebuying potential
White Bear Lake: Touches the cities of White Bear Lake, Mahtomedi, Dellwood, Birchwood Village, Bellaire and White Bear Township. There are 11 properties for sale ranging from $210K for deeded access to $2.5M for a lake front home.
Coon Lake: Ham Lake, East Bethel, Columbus, Wyoming. There are nine properties for sale from deeded access land at $43.5K to $1.2M for a home on 220 feet of lakefront with a sandy beach.
Carver County: Lake Waconia and Lake Minnewashta. There are 10 active listings between the two lakes, from $310K to $2.1M in Chanhassen and Waconia.
Minneapolis lakes: As we said at the beginning of the article, living on a Minneapolis lake is hugely popular and hard to come by. As of the publish date of this article, only three Minneapolis lake homes are on the market – one on Diamond Lake, one on Cedar Lake and one on Lake of the Isles.
Wondering how to determine which lake to choose or what areas to look in? A checklist of your must-haves will get you started in the right direction.
Eight steps to buying a lakeshore home
Cabin Country – Vacation homes, lake homes and cabins outside the Twin Cities
Le Sueur County – fishing paradise
Just outside the busy college town of Mankato, there are several quiet, small towns known for excellent bass fishing in the southern half of Le Sueur County. Currently, there are 74 lakefront properties for sale within Le Sueur County, with the greatest concentration on Lake Jefferson and neighboring German Lake, connected by a small channel. In addition to bass, fishing enthusiasts are drawn to this area for the bluegill, northern pike and walleye.
Travel slightly southwest and Lake Washington offers another great location to search for a lake home. Pricing varies greatly in this area — from approximately $120K for a lot on German Lake to million-dollar homes on Lake Washington.
Reader tip: One of our readers also recommends Tetonka Lake in Waterville. There are limited listings on this popular lake, currently only six, which is why it didn't make our list. Tetonka is a beautiful lake offering variety in both price points and property type.
Crow Wing County – an oasis of water fun
Nothing quite defines the land of 10,000 lakes like the home of Paul Bunyan and the legend of his powerful lake-creating footprints. This popular region is the place for summer fun! The Brainerd Lakes area stretches from Brainerd up to Cross Lake. Vacationers, weekenders and locals take to the waters year-round. The 14 connected lakes, known as the Whitefish chain of lakes, are home to beautiful family resorts, golf and quaint shops and restaurants. Altogether, these lakes total 14,000 acres and are popular for swimming, boating, fishing and all types of water recreation.
Another area to consider is Pelican Lake, six miles east of Pequot Lakes. Pelican Lake ranks in the top 5% of largest lakes in Minnesota with 8,367 acres. Need extra space for visitors on this beautiful lake? Breezy Point Resort is a favorite destination for lodging, boat rentals, chartered cruises, golfing, cabins and more.
Currently, there are more than 400 lakefront properties for sale in Crow Wing County, offering a wide spectrum of options from luxury log cabins to open land. Prices range from $10K for a to-be-developed lot at Rush Lake Preserve in Baxter, to million-dollar homes on the Whitefish Chain. You can find public boat access in almost every direction and a plethora of entertainment and dining options.
North Shore – breathtaking views and cold-water fishing
Lake Vermillion and its surrounding bays — just west of Ely in the heart of Minnesota's Arrowhead region — is known for walleye and muskie fishing. If you love clear blue water and cooler temps, this area is a great pick for a true up-north lake home. There are currently 116 listings on Lake Vermillion ranging from $45K lots to $4M luxury homes.
Devil Track Lake, a few miles north of Grand Marais, is another not-to-be-missed favorite north shore destination. Positioned in the middle of Superior National Forest, Devil Track Lake is the perfect place to embrace nature and wildlife. The natural beauty extends to the nearby Boundary Water Canoe Area and even to the quaint local wares of downtown Grand Marais, the oldest art colony in Minnesota. And one simply can't overlook the draw of Sven and Ole's world famous pizza.
There are several other beautiful lakes in the area to keep an eye on for potential lakeside listings, including Caribou Lake, Deeryard Lake and Pike Lake. Cook County, which stretches from Little Marais to the Canadian border, currently offers 84 lakefront properties for sale. Undeveloped lots start around $50K and prices cover a full range to over $2.7M.
Western Wisconsin – home of the world's largest muskie
How often do you set your sights on a 143-foot muskie? Well, if your lake home were in Hayward, Wisconsin, the world's largest muskie landmark would greet you at the National Fresh Water Fishing Hall of Fame on the daily. Hayward is also home to the Lumberjack World Championships, mountain biking and over 600 miles of snowmobile trails throughout Sawyer County. If you are looking for lakefront near Hayward, Round Lake is an excellent option with 49 properties currently listed for sale priced from $59K lake lots to $1.6M homes.
Travel about 30 miles south of Hayward and you will find Red Cedar Lake. This 1,184-acre lake stretches between Barron and Washburn counties. If you are looking for a budget option to owning lake property, nearby deed access lots start at $5K. Currently, there are 96 lakefront properties including one-bedroom condos starting at $105K and luxury dream homes around $2M.
On the very western edge of Wisconsin, and a mere 20-minute drive from St. Croix Falls, you will find Balsam Lake. The 2,054-acre lake is the largest in Polk County. It is popular year-round for water sports, boating and ice fishing, not to mention the more than 50 local businesses that line the shore. Currently, there are 18 properties for sale on Balsam Lake, from $74K to $1.4M. Travel just a bit further north to Bone Lake and you may find a few more cabins for sale within a reasonable price range.
Grand Rapids – small town charm meets Minnesota nature
Just a few heel-clicks away from the hustle and bustle of the Twin Cities, Grand Rapids is the childhood home to Judy Garland and is celebrated with the annual Wizard of Oz festival in June. And the tourism draw doesn't stop there—Grand Rapids hosts events almost every month of the year. Water is always mere steps away with home and lodging choices along the Mississippi River and the area's numerous lakes.
USA Today named Grand Rapids as one of the nation's 50 best cities to live for 2019. The article lists the area's low unemployment rate of 0.6% paired with a lower-than-average cost of living as key factors in their ranking. There is also no shortage of dining, recreation, shopping and entertainment options in the city.
Currently there are 44 lakefront and riverfront properties for sale in Grand Rapids. Prices range from $25K-$79K for land to $600K+ for a luxury home.
Reader tip: Check out Deer Lake and Pokegama Lake.
Lakes Country – western Minnesota
Heading west of the Twin Cities, there are a few standout locations to consider when looking for a lake home.
Alexandria is conveniently located on I-94 and is a rapidly growing city. It is not difficult to see why with more than 350 lakes in the area offering everything from fishing to boating to the famous water jet packs.
Continuing west, a mere 40 minutes from Fargo, Detroit Lakes is another lake home hot spot. There are over 400 lakes within a 25-mile radius of the city of Detroit Lakes. Nature-lovers find a great deal to explore and discover throughout the woods and water of this region.
Ready to take a closer look at some of these best lakes in Minnesota to live on? Take the next step in buying a lakeshore home or cabin and let the search begin!
Wondering how to determine which lake to choose or what areas to look in? A checklist of your must-haves will get you started in the right direction.
Eight steps to buying a lakeshore home
Numbers based on MLS listing data as of October 24, 2019. Listing information changes frequently. For up-to-date listing information, visit edinarealty.com.