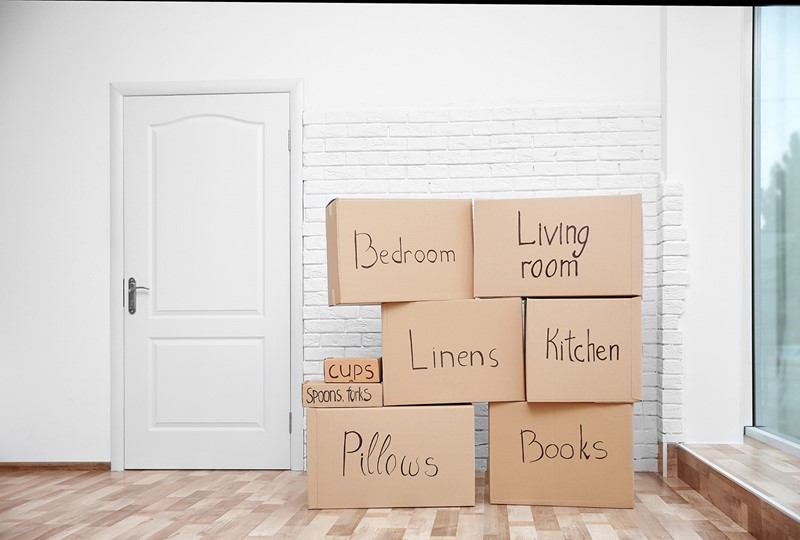 Key insights

Moving can be an expensive task. Buyers and sellers can save money by using materials they already own.
Don't box everything! Pack up your closet and clothing items by keeping them on their hangers and in their drawers for the entire move.
By color coding your move, packing strategically by weight and planning in advance for a first night's sleep, it's easy to minimize some of your moving stress.
Don't overthink the packing process — and don't pay a dime extra! These hot tips, gathered from moving experts and Pinterest pros, will ensure you can pack and move from one residence to another without spending hundreds of dollars on boxes, bubble wrap and shipping tape.
1. Color code your move
Come up with an easy color-coded system for each room in your new house, then make sure you label each box or bag with the correct color. If you have washi tape from that short-lived scrapbooking habit, put it to good use! Otherwise, colored markers or taped on pieces of colored paper will work just as well.
Here are more insights on how to color code your move.
2. Pack by weight
It's important to protect your body as you move, so be sure to place the heaviest items in the smallest boxes you have and use larger boxes for lighter items. As for books, don't put them in boxes at all. Instead, use your rolling suitcases and tote bags to transport your books to your next house.
3. Build your own garment bags
Most of us don't have enough garment bags to house all the clothing items in our closet, but it's a waste of time to pack up each button-down shirt, dress and pair of pants into boxes. Instead, turn a plastic garbage bag upside down and make a small hole in the middle. Hook a group of ten hangers into the opening, then seal the "top" of the bag using the bag's original strings.
Voila! Now you can transport closet items with ease.
4. Use cling wrap for everything
Think about all the loose items you'd rather keep in place, then use cling wrap to do just that. Wrap full drawers from a bedroom dresser, keeping the clothes intact (and protected) underneath. Wrap the outside of a utensil holder so you don't have to pack each individual fork away.
In short, if you are bringing the container that holds items with you, then you can wrap up the contents to save time.
5. Document your cord chaos
Before you dismantle your computers, TVs or other electronics, take clear photos of the cords and how they interact with one another. Setup is a breeze when you have a visual guide for how the devices work best.
6. Protect your plates
It is possible to protect your kitchenware without spending a fortune on bubble wrap. If you have unused Styrofoam party plates, layer one in between each plate as you pack. If you don't have disposable plates, consider using thicker cloth napkins, tablecloths, placemats or kitchen towels to separate each plate.
7. Organize bed sets in their pillowcases
After a long day of moving, you'll want to collapse in your beds. Don't make the mistake of placing all linens into a non-descript box that can't be located quickly.
Instead, wash all sheet sets prior to moving if you can. Then place each set of sheets into their coordinating pillow case and put the pillowcases into color-coded garbage bags to protect them. Each family member will be able to easily locate their bedsheets among the color-coded bags and boxes in their room.
Ready for your next move?
These packing hacks are only the tip of the iceberg when it comes to our moving expertise. Contact one of our local real estate experts to get advice on buying or selling a home in Minnesota or western Wisconsin. Call, chat or email now to get connected with a REALTOR® near you.
Plus, follow #BuyerInsights and #SellerInsights on Facebook, Twitter, Instagram and YouTube for even more tips on buying and selling homes.